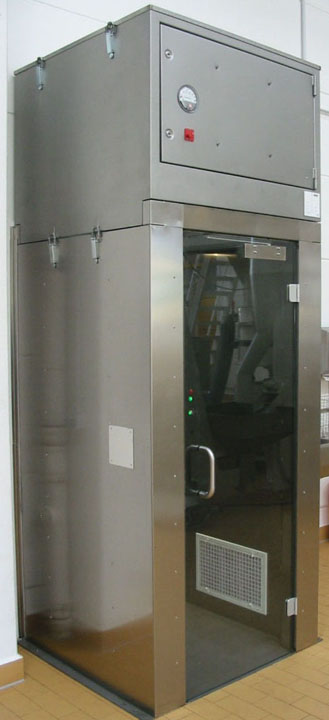 A relatively new development of ours is the JETI AirShower. It's an all-stainless step-in cubicle equipped with a high-speed HEPA filter that sanitizes the clothing an employee is wearing when she or he moves from one part of the plant to another.
The JETI AirShower comes in two versions: Z-250 and Z-260. Both are made from glass and stainless steel and measure 1100 mm (43.3. inches) square by 3100 mm (122 inches) high. The Z-250 model is designed for laboratories and similar sensitive environments, while the industrial Z-260 is good for general use (employees entering the plant in the morning, going out for lunch, dinners, and other occasions, then returning).
One entrance to the JETI AirShower is the "grey side," the other is the "clean side." When going from "grey," doors close and lock. Four columns of jets start air circulating at high velocity to dislodge debris and dust particles that are then HEPA filtered. Doors open, and the employee steps into "clean." A similar procedure happens in reverse going from clean to grey.
Interior surfaces are made from smooth stainless steel with no seams that can cause air turbulence or nooks and crannies where bacteria can accumulate. Sophisticated differential pressure gauges monitor the perfoance of the HEPA filters and indicate when it's time for replacement.
To download a PDF version of the JETI AirShower brochure, click here.