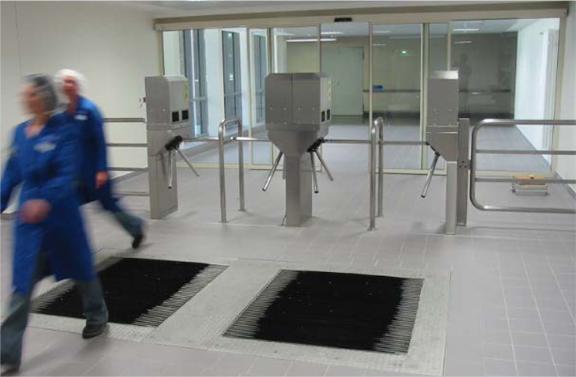 JETIcleaner Basic and JETIcleaner Professional are available as stationary units or ones with wheels that can be moved around the plant as needed for automatic cleaning of shoes and boots.
JETIcleaner Infloor units, by contrast, are built flush with the floor level. You walk across, and presto, your soles are clean. With more robust units, you can even drive a fork lift over them to sanitize the wheels.
JETIcleaner Upfloor units are similar in concept, but are designed as large step-up modules that are placed permanently in a passageway or link from one part of the plant to another where there is high employee traffic. Obviously the fork lift option won't work in this case.
But what does work is the same bed of 12-cm-wide (0.50 inches) bed of motorized brush strips that move independently from one another in opposite directions. The operate much like an escalator—one going one way, and the one beside it going the other. When they disappear underneath the foot bed, they're sanitized by a continuous spray of disinfectant (alcohol or non-alcohol based) before they re-emerge at the other end to do the same thing over again.
To download a PDF version of the JETIcleaner Infloor/Upfloor brochure, click here.